In continuation with the theme of the Year of the Horse, a series of commemorative stamps has been printed to recognise the efforts made by horses in British society today. Although contribution by horses in British society has dramatically reduced since the invention of the motor car, horses are still used in day to day tasks such as pulling lumber, as members of the Queen's guard, and in many leisure and sporting events.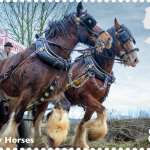 Horses are incredibly trusting and affectionate animals. They can provide true support to those who need it, and are one of the most commonly used working animals in the UK. To commemorate this year of the horse, British post offices have announced a series of horse-themed stamps available in 2014. Traditional circus and fairground festivals often have horse-drawn carts and many farmers use horses to pull tilling equipment, so equines still have a huge role in today's workplace!
If you were thinking of sending a package or a gift to a friend or relative abroad, or you were looking at setting up your business with regular deliveries between the UK and the rest of the world, look to RAND Logistics for first rate, competitive service.