It is Pancake Day today! Many people get together to make their own pancakes or they buy them from available stores, but if you fancy baking some pancakes for a foreign friend or relative, here are some tips to getting them shipped fresh and ready to eat.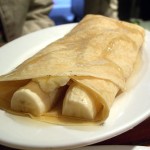 Preparation
Make sure to prepare all foods immediately before packing and mailing to ensure maximum freshness, however let all foods cool completely before boxing them up and shipping, as hotter foods can cause condensation on the inside of the container used to post them.
Speedy Shipping
To ensure freshness, choose the fastest shipping method available. You can even request urgent shipping from various companies.
Waxed Paper
Cookies and various other baked goods with sticky glazes and iced decorations can be protected by putting sheets of waxed paper in between each layer. Also avoid sending muffins and cookies with moist fillings or frostings as they can become sticky or soft at room temperature.
Make sure to check your local post office restrictions to see what types of goods can be posted internationally. At RAND Logistics we can ensure top quality postage at competitive rates. Contact us for more information.