Yesterday we focused on Amazon's Prime Air service that could change the face of how parcels are delivered on a global scale. Today we take a look at how Google has responded to Amazon's "drone" project. Google have been widely recognised in recent years as they look to take the technology world by storm with driverless cars and "Project Glass".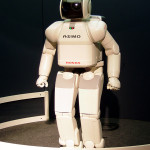 Towards the end of last year, Google revealed that they were planning the introduction of droids that could deliver groceries and heavy duty parcels to our doors. A Google executive partly responsible for Android smartphones, Andy Rubin, was the first to reveal Google's postage project to the public.
Since resigning from his position at Android, Rubin has managed to get several companies onboard at Google, all of whom possess technologies that are capable of working towards a robotic postal service. Whilst it may seem too far off to challenge something like Prime Air which already has prototypes in operation, Google are confident that they can cover all sorts of activities with their robots including manufacturing and ultimately a parcel delivery service.
So what's the realistic outlook for this particular form of delivery service? It might seem like something from a science fiction movie but Google have managed to join forces with a Japanese company that already make the most of digital robotics in delivery services. With that in mind, could we end up being greeted by a robot the next time our groceries arrive at the front door?