Yesterday we touched on how tracking parcels could really boost the efficiency of international parcel delivery. Whilst there are plenty of tracking systems available online today, many of us would love to be able to know exactly where our parcels are and exactly how long they might take to arrive, especially if it's a delivery of particular significance or a heavy parcel.
Thankfully, it seems that the introduction of smartphones, tablets and other kinds of handheld technology might completely change the way in which consumers deal with postal services.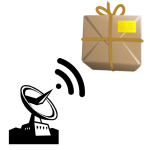 We mentioned the idea of using e-mail as means of getting in touch with addressees in yesterdays blog post. Rather than restricting tracking services to email, we could even see an application of some sort that lets delivery companies provide information to customers directly to their handheld devices.
There are also many useful applications already available on the app store that could benefit delivery companies and their drivers including ZipCodes, Postal Code and UK Postcode, all of which provide in depth information regarding locations and so on.
There has been a real explosion of tracking applications available on both Apple and Android's app store recently. As long as delivery services continue to explore the possibilities of parcel tracking, customers could gain all sorts of useful benefits from the service in the future.
With regards to future technologies, work is currently going into tracking systems that could potentially tell us exactly where our parcels are in the world using state-of-the-art GPS trackers.