This week we'll be gearing up for the biggest event in the Christian calendar, the celebration of Easter. It's a religious event that is celebrated in various different ways across the world, with some focusing on the sorrowful events of Good Friday and Jesus' death and others concentrating on the joys of Easter Sunday and Jesus' resurrection. Today we'll be looking at how Christians and non-Christians in Ghana approach the week leading up to Easter and the weekend itself.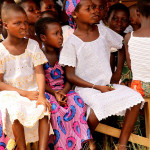 Palm Sunday is an occasion where Jesus' entrance to Jerusalem is welcomed and celebrated. This is the largest event before the crucifixion and the Easter weekend, so it is celebrated widely in churches throughout Ghana. Palm branches are typically waved at mass to recognise the event.
Good Friday is a sombre day in Ghana that is respected by attending church and wearing dark coloured dress. Some people in Ghana who don't attend church regularly will almost certainly look to be there on Good Friday. On the other hand, Easter Sunday is a joyous day that signifies the resurrection of Jesus. Everyone who attends church in Ghana wears white on Easter Sunday.
If you know someone who is visiting Ghana for Easter this year or you just plan to send a parcel to Ghana, why not make the most of our unrivalled parcel delivery services here at RAND?