We continue our week of looking at Easter celebrations across the world with the traditional celebrations that take place in Portugal. Portugal has a large Christian population that celebrate Easter differently to the rest of the country. Here are some of the events and traditions that take place throughout the Easter week in Portugal.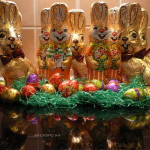 Portugal recognises Good Friday, the most important day in the Holy Week, as a national holiday. Some Christians also recommend that people fast as a symbol of Jesus' suffering on the cross. This would involve giving up meat and replacing it with fish instead, in particular codfish.
Easter Sunday is a huge day in Portugal, with all sorts of traditions taking place. The local parish priest visits homes to wish a Happy Easter, whilst he also brings a figure of Christ with him which can be kissed by each member of the household to celebrate his resurrection.
There are plenty of pagan traditions still present in Portugal, from Easter Eggs to the Easter bunny. Like many other countries, chocolate eggs are shared out at Easter as gifts, whilst roast lamb is traditionally eaten in Portugal at lunchtime on the Sunday.
If you're interested in sending a gift to Portugal, make sure you check our list of prohibited items to Portugal so that you know your gift will make it to the addressee without being intercepted by customs.