We're at the halfway point of our Easter week here at RAND, and today we're looking at how Easter is celebrated traditionally in Bangladesh. Bangladesh is home to many different religions, including Christianity, Islam and Hindu. Whilst Christians recognise Holy Week as any other Christian would, many of the other religions will also get involved with the celebrations. Here are some of the traditional Easter festivities that take place in Bangladesh.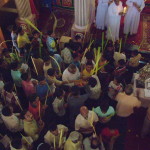 Easter Sunday is not yet regarded as a national holiday in Bangladesh despite opposition from Christians throughout the country. The Muslim population are believed to be against the idea of having Sunday as the national rest day, which opposes the Muslim calendar.
Despite their differences, the various religions in Bangladesh enjoy celebrating Easter alongside Christians in the country and recognise the symbolic event of Jesus' death and resurrection.
Christians will often celebrate Easter by sharing sweets, chocolate and other treats amongst the family and with other non-Christians. The church service usually takes place in the morning on Easter Sunday, with parents dressing their children in new clothes to symbolise the special occasion.
We provide a parcel delivery service to Bangladesh here at RAND, so if you want to send a gift abroad, make sure you get a quote from us today!