It's our second day of looking at some of the favourites for the World Cup in Brazil, which is now only a few months away. They've dominated the world of football for the last four years and are the current World Champions after winning the tournament in 2010. They also won the European Championships in both 2008 and 2012 and possess some of the greatest footballers of a generation. They are of course, Spain.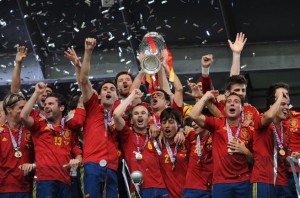 The Spanish national team introduced a brand of football that inspired clubs and countries across the world. They are widely respected for their attractive, fast-flowing approach to the game. So what are Spain's pros and cons when it comes to their World Cup challenge in Brazil?
Pros
They've managed to win the last three major tournaments that they've been involved in, excluding the Confederations Cup, so they certainly have the pedigree to go on and win it. You'd certainly be a brave individual to bet against them at this stage, with the likes of David Silva, Xavi, Iniesta, Pedro and the prolific Diego Costa in their squad.
Cons
In all honesty, there aren't many. It's possible that Barcelona's recent dip in form might influence a lacklustre performance in the World Cup this time around, whilst there are a few teams capable of putting up a fight against them, including the host nation Brazil.
If you're interested in sending a parcel to Spain, why not get a quote today from us here at RAND?