It's the last day of our Winter Olympics blog posts and as we come to the end of the downhill slope we take a look at how Great Britain is getting on in the games. Great Britain isn't famous for their successes in the Winter Games, although they have set a target of three medals this year. Here's what's happened so far for team GB and a brief look at their history in the games.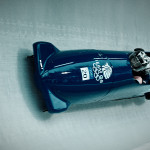 Great Britain won the first ever medal on snow in this year's winter games with a bronze medal victory for Jenny Jones in the women's slopestyle. Since then GB have struggled to add to their medal tally but finally managing to win a medal on snow is a positive achievement. Elsewhere team GB are putting a lot of their hopes on the curling teams who have tasted success in the past, most notably in 2002.
The most medals Great Britain have ever won in a winter games is four medals, way back in 1924. Their total accumulation of medals in the history of the winter games currently stands at 22 with 9 gold medals.
As we come to the end of posts surrounding the Winter Olympics, remember that RAND Logistics provide a collection and delivery service internationally. So if you need to ship a parcel abroad make sure you come to RAND for your free quote.