On our final day of looking at how Easter is celebrated across the world, we concentrate on the traditional Easter celebrations in the UK. With a large Christian population in the UK, Easter is celebrated in various different ways. The traditional pagan aspects of Easter are also adopted by the vast majority of the population in the UK. Here are some of the things you might expect to notice throughout the upcoming Easter weekend in a typical British household.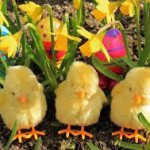 There is a special service carried out in by most parishes on both Good Friday and Easter Sunday to commemorate the events of Jesus' death and resurrection. On Good Friday, Catholics do not sing hymns at mass and leave the church in silence.
Easter Sunday is a day of celebration across the country, regardless of your religious background. Most Christians will visit church in the morning to celebrate Jesus' resurrection, whilst Christians and non-Christians alike typically follow pagan traditions by organising Easter egg hunts for the children and giving out chocolate eggs to one another as gifts.
The vast majority of working organisations are closed down for a long weekend, spanning from the end of Thursday to the beginning of Tuesday. Hardly any shops are open on Easter Sunday, with limited public transport available as well. It is a quiet day that encourages families to get together and celebrate the bank holiday weekend.
For more on RAND'S unrivalled delivery service throughout the UK and abroad, get in touch today. We'd be delighted to hear from you!