On the penultimate day of looking at various Easter traditions across the world, we're focusing on how the Christian festival is celebrated in Italy. If you need to send a parcel to Italy, why not make the most of our services here at RAND?
Italy has a huge catholic population with a significant portion of Italians prioritising a visit to church every Sunday. There are plenty of unique traditions held throughout the Easter week in Italy. Here's what you might expect to see if you're visiting the country during this time.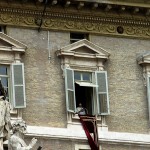 For most Italians, Good Friday is a hugely symbolic day. Ceremonies are hosted in cities across the country, commemorating the death of Jesus and his road to crucifixion.  Some of these processions may include symbolic dress to represent the events of Jesus' death, such as Roman costumes.
Good Friday is, like in many other countries, a sombre day. Churches throughout Italy won't ring their bells from this day until Jesus' resurrection. The Pope's Easter message also takes place on Easter Sunday from the Vatican.
On the Saturday, Italians usually prepare for Easter Sunday by decorating the home and cooking food. Some Christians will attend church in the evening, although the day is usually seen as one of rest and reflection. Easter Sunday is a day of celebration whereby families gather and enjoy a large traditional meal. They also incorporate the inherited pagan traditions of having Easter eggs and other sweets on the Sunday.