Everybody loves getting gifts in the post and it is even more heartfelt when these gifts are handmade and edible! Cookies and muffins are great if you are recovering from an illness, or you simply feel homesick for some traditional family cooking. Make sure your baked goods reach their intended destination in good condition with our top hints and tips.
Double Wrapped, Double Fresh!
You can never pack your baked goods too well. By ensuring that all Tupperware containers are sealed with cello tape and then placed inside a larger container, you are reducing the chances of the goods being exposed to air, plus you are reducing their chances of breaking from being thrown around. Place the smaller container in a larger container and fill with packing peanuts or bubble wrap to ensure that the container does not move around in transit.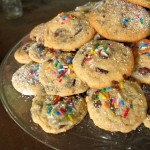 Retaining the Moisture
Pack soft cookies or muffins with a slice of bread or a slice of apple, as these help the goods to retain their moisture. If you are packing up cookies, try not to pack moist cookies with hard ones, as the moist cookies will soften the crisp ones. If you have to pack them together, make sure each cookie is well wrapped individually.
For fast delivery and excellent service worldwide from Spain to Pakistan and further afield, choose RAND Logistics.