Junk mail is an issue that most people have to deal with nowadays. Even if you subscribe to a removal service, there is still the odd occasion where a leaflet or two about TV licensing for example, can slip through. Wouldn't it be fantastic if there was a use for all this junk mail? Well with a bit of imagination, we here at RAND have thought of a whole week's worth of different uses for junk mail. Starting with:
Paper Bedding
If you have any kind of small animal, shredding up some of the paper leaflets can make a great alternative to buying paper bedding. Just be sure that you don't use anything too colourful, as some younger or smaller animals tend to eat the paper, and the ink may be harmful.
As Confetti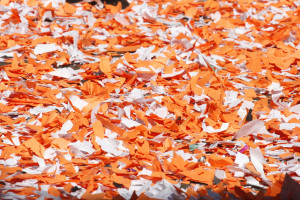 Budget confetti may seem like a half hearted attempt at celebrating, but nobody can fault your ingenuity, and your recycling prowess. Plus so many advertisers nowadays use brightly coloured designs and shiny paper, so shredding some leaflets and junk mail together could create some really colourful confetti. Try it!
For first rate services in record times, use RAND Logistics when sending your friend or relative a gift to celebrate a special occasion in India. Try our Quick Quote form to see what you can save!