It is important to check with the local customs officers to make sure that any parcels you intend to send to friends or relatives living in Austria meet the specific shipping restrictions, so that you don't try to import anything illegal.
All meat and animal products, plants and parts of plants, fruit, onions and flower bulbs must be accompanied by a certificate of origin and where necessary a plant-health certificate, if the shipment weight exceeds 3 kg or 6 pounds. Austrian coins and articles made of precious metals must be in keeping with Austrian regulations and permission from the Austrian National Bank must be obtained prior to the sending of any parcels containing these items.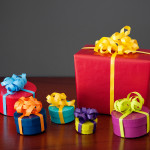 Gift shipments must be clearly marked as GESCHENKSENDUNG on the customs declaration, and are exempt from charges and fees when the value of the parcel is under €29. The gift in question cannot contain more than 40 cigarettes, 10 cigars or 50 grams of tobacco, or 50 grams of a selection of these products. Live plants and animals and human remains are strictly prohibited under the country's mailing conditions.
For all international parcel deliveries, choose RAND Logistics. As one of the top rated worldwide delivery services, we can guarantee you the best prices for your parcels, and with free tracking options, you can see where your parcel is at each step of its journey. For a secure service at competitive rates, choose RAND Logistics.